Tonari Pilot Program
Tonari's first pilot is an installation between Frontier Consulting's Tokyo headquarters and the Osaka branch office. It connects two open work areas and is usable by anyone in the company.

In addition to the installation, we asked two Frontier employees in each office to act as facilitators, special volunteers who helped their colleagues feel more comfortable with tonari, by demonstrating and creating opportunities to use it.
The primary goal of this tonari pilot was to create the feeling of "one team" by merging the two offices into one connected space. The management team at Frontier Consulting hoped that with tonari:
Osaka employees will gain better access to management, new projects, and information — similar to employees physically present at Tokyo HQ.
This improved sharing of company culture will drive the desire among staff in both locations to work toward a common goal.
Through two months of field studies, interviews, and other feedback channels, we were able to gather these learnings about how people are using the tonari installation so far:
Life-sized body language helps people feel more connected
'Always on' allows people to share more information more easily and frequently
Serendipitous interactions lead to faster decision-making
We hope that by forging and fostering new relationships between the two offices, we are able to create a more connected and effective organization.
1. Life-sized body language helps people feel more connected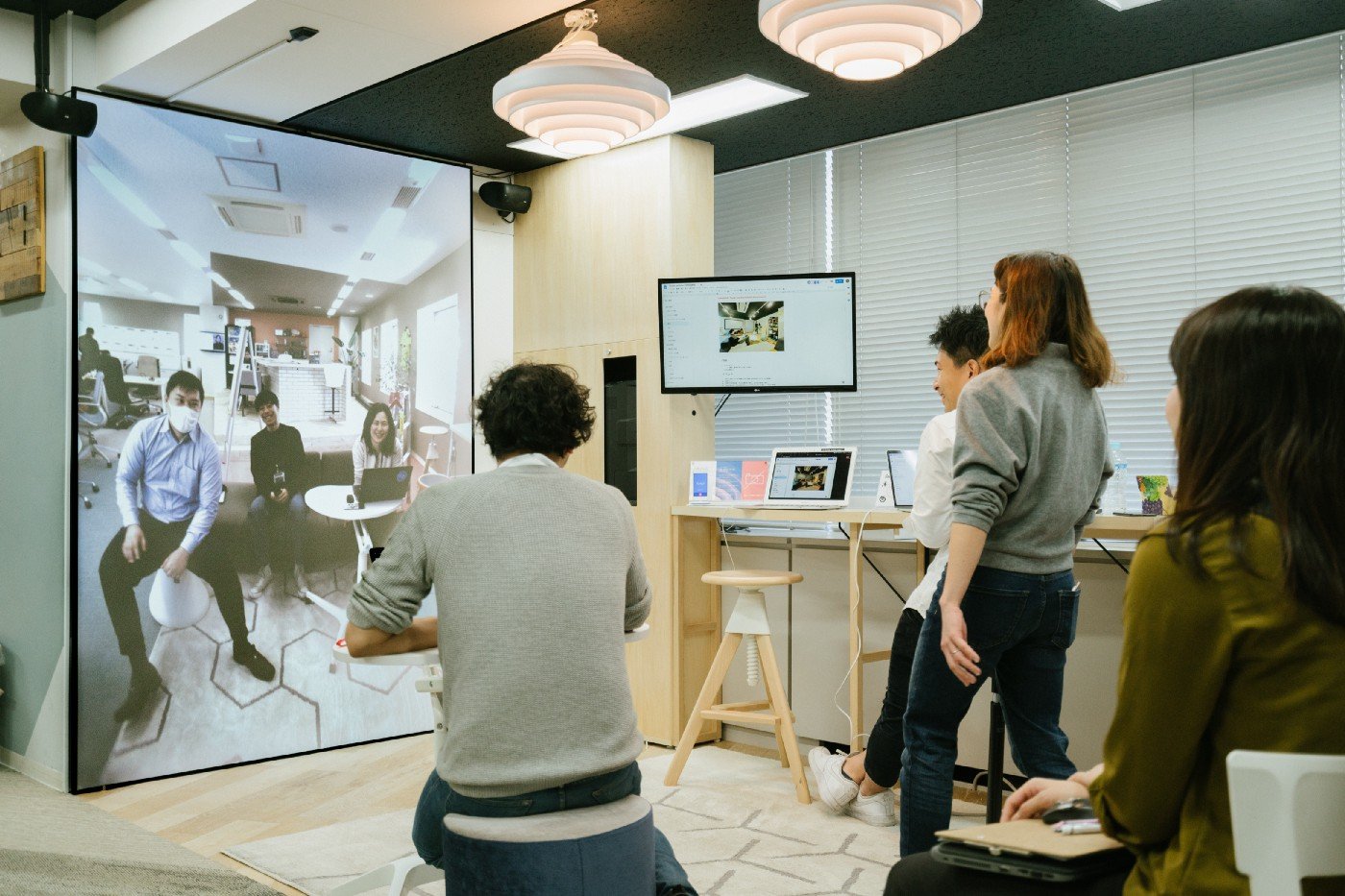 People using tonari report feelings of closeness with their physically-distant colleagues. They attribute this to the fact that tonari allows them to see life-sized images of their counterparts, which makes it much easier to observe more nuanced body language. It is worth noting that this rich visual/auditory information is being relayed at 60fps in under 150ms, which is the best-in-class for remote video communication. The smoothness and imperceptible delay plays a part in making the interaction feel more immediate and real.
"It was an epiphany that a life-sized, 'always-on', shared view of office surroundings could make distant colleagues feel more real."
Frontier Consulting employees typically use email, company-issued mobile phones, and Zoom video conferencing for internal communication. Zoom is VoIP + video, which captures only facial features. In contrast, employees who use tonari report that viewing their counterpart's entire body makes a significant difference in minimizing the feeling of physical distance.
According to Satoshi Ono, Deputy Director of Frontier Consulting's Design Department in Osaka, "It was an epiphany that a life-sized, 'always-on', shared view of office surroundings could make distant colleagues feel more real."
Noriko Yamamoto, a designer in Osaka, explained in an interview, "I was in a meeting with my counterpart in Tokyo via Zoom, and switched to tonari. It made the distance feel much smaller. I really appreciate being able to see the entire person!"
Ayu Gumizawa in Tokyo added that tonari is especially suitable for conducting introductory meetings because the counterpart is "much more real. [An interaction through tonari] makes me realize that this person actually exists, and is moving around in another part of the world."
Tonari was also able to help people overcome nuances in regional cultural differences, which can get lost in translation over traditional video chat applications like Zoom. Yamamoto-san elaborated, "Differences in regional accents makes it difficult for me to read and convey the nuances of Tokyo teammates sometimes. [Some conversations] made me wonder if they might be angry or annoyed with me. The opposite must be true too, where a Tokyo teammate might misunderstand that an Osaka teammate is angry or annoyed with him/her."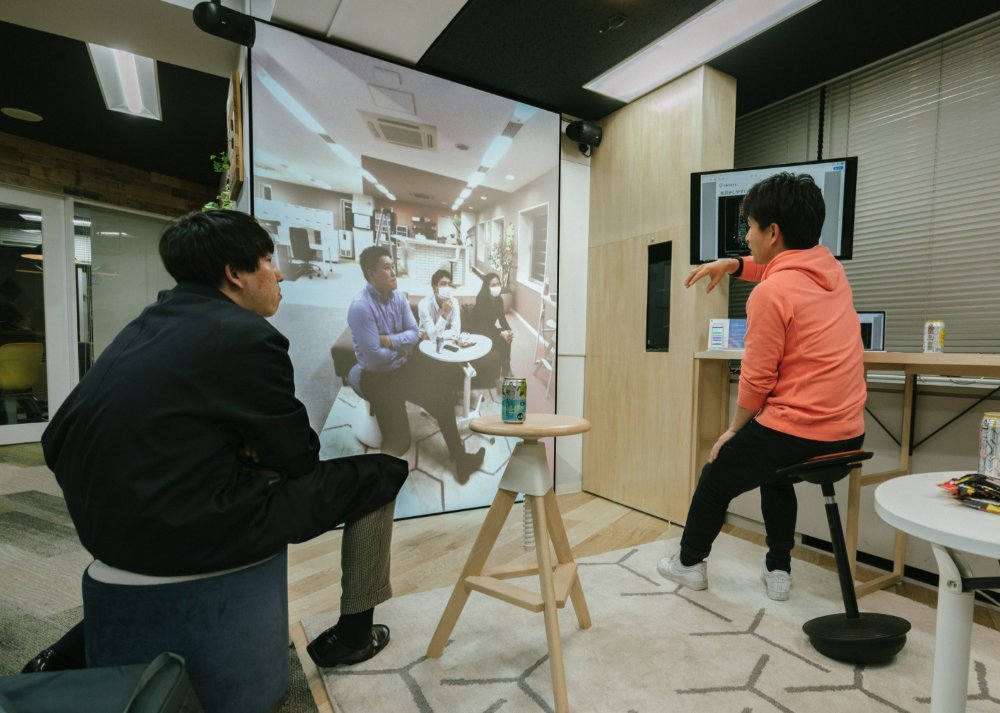 These nuanced differences become extra apparent for people using tonari when they start to engage on deeper and more technical subjects. Kazuya Nishimura in Osaka explained that, partway through his phone conversation with Okano-san, a newly hired employee in Tokyo, he switched to tonari. In his words, "I wanted to know how much technical knowledge Okano-san had. I was using industry terminology during the discussion and assessing how much Okano-san understood." And because his counterpart was in Tokyo, he "didn't even think to use Zoom." Nishimura-san indicated that Okano-san's body language, in this case, signs of understanding or confusion, was essential visual information that would have been omitted if limited to just voice and facial expressions.
"It really feels like we're in one office."
Interestingly, even people who did not regularly use tonari for meetings or have strong existing relationships with employees in other offices benefited from feeling a connection to their physically-distant colleagues. A person in Tokyo noted that, while working late at night, seeing the lights on in the Osaka office made them feel less alone. Naoko Yano, director of the Osaka office, expressed a similar feeling of connectedness from overhearing the daily morning sales meeting in Tokyo: "It really feels like we're in one office."
While it is difficult to quantifiably measure these increased feelings of connection, it is clear from the feedback above that people find interactions over tonari to be more similar to co-located interactions for its rich visual information — voice, facial expression, and body language visible to both parties.
2. 'Always on' allows people to share more information more easily and frequently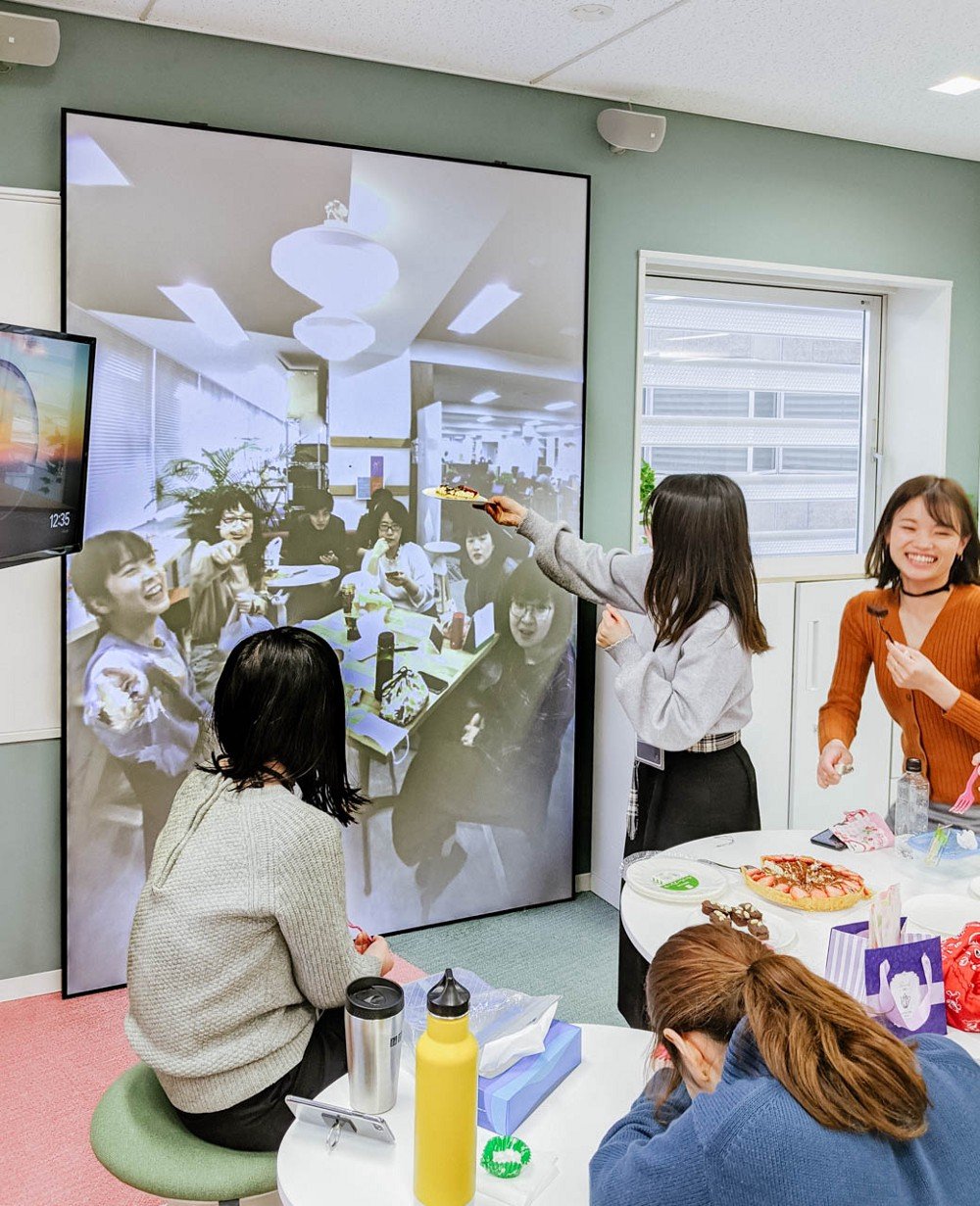 tonari installations are always on.
We've adhered to this design philosophy from inception, as serendipitous interactions and free flow of information closely mimic the real-life circumstances of sharing the same space with another person or team.
When people share an office, they tend to feel more included and plugged-in day to day, while remote teams can sometimes feel separated or disjointed. In the case of Frontier Consulting, those in the Osaka branch office felt removed from many things happening on the business front at the Tokyo HQ. There was no information exchange through serendipitous encounters, like random lunch conversations with HR (a department only in Tokyo HQ), or bumping into a Tokyo salesperson in the hall, and learning that they'd won a new project. HQ is teeming with information. Random banter leads to a shared understanding.
We observed that conversations through tonari flows from one topic to the next, leading to the exchange of more information. Unlike video conferencing systems or phones, there is no disconnect button. This means that tonari conversations don't end abruptly after a predetermined time or after a topic has been discussed. Instead, people continue to casually chat and discuss a wide range of topics. During on-site field studies, we frequently overheard phrases such as: "Oh yes, I also wanted to ask…" and "By the way…" We observed people continue their conversations after scheduled meetings, exchanging information about different projects, and covering more general topics such as how their counterpart is feeling about their workload and personal life.
These unstructured and unplanned interactions inevitably led to more information exchanged between employees, benefiting the organization as a whole. "By having tonari connect Osaka and Tokyo, there are more constant, casual conversations, so the connection feels stronger." (Nishimura-san in Osaka)
3. Serendipitous interactions lead to faster decision-making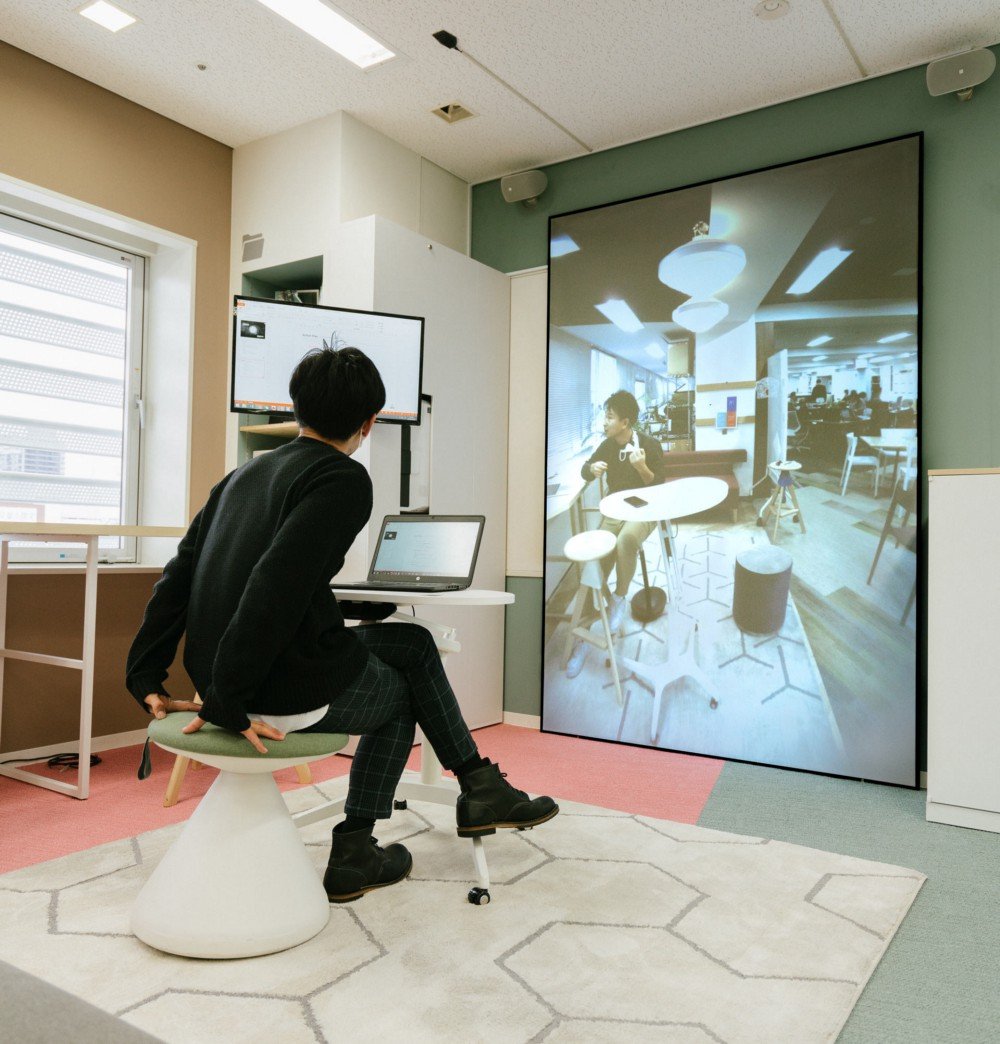 Ari Bezman, director of Singapore-based consultancy firm Electric8, raised an interesting point about his past experience as a product manager at Google. At HQ, he could run into a director he'd been trying to reach for weeks, and, through a short conversation, set in motion the necessary actions to get a stalled project moving again. The opportunity to have this kind of encounter drops dramatically outside of HQ — Ari notes the difficulty of conveying urgency and priority over email, how hard it is to pin down busy managers, and how intimidating it can feel to call them.
In general, being in a regional office impedes communication and access to senior members in HQ, which is one reason many organizations pay for regular and expensive business travel between branches. To Ari's point above, when more staff have access to senior managers, decision making becomes faster. By connecting Frontier Consulting's Tokyo HQ with the Osaka branch, we saw that employees in both locations had better access to each other and senior management.
"I was going back-and-forth over email, then saw my counterpart through tonari. We were able to talk through and resolve the matter in seconds. It was awesome!"
Coworkers connected via tonari can quickly call out to each other to ask quick questions when they need help. They enjoy the same benefits as co-located colleagues, who are able to pick up on appropriate moments to interrupt and ask for small favors.
Distributed workers, who are unable to perceive such moments, may hesitate to make a call or send an email out of fear of being seen as annoying. Yamamoto-san elaborates, "The phone can be challenging — nonverbal information is lacking (is the person making this request because they're angry?), and there is a hurdle to making the call in the first place (is this important enough to call and interrupt the person?). Sometimes, I'd hold back from calling and move things forward based on my own judgement. This led to more miscommunication and frustration, and I was left wishing I had just called and asked in the first place."
The installation of tonari seems to effect some changes. Yamamoto-san provided the following example: "A teammate called out to me from Tokyo [through tonari] to ask whether a particular file had been saved with the requested changes. It was a small confirmation and ask, but this is where I felt tremendous value. This was something that couldn't be done easily through any other communication tool." Because people are able to see, perceive, and interrupt their distributed colleagues more readily, this appears to lower frustration and boost productivity. A Tokyo-based person more simply wrote: "I was going back-and-forth over email, then saw my counterpart through tonari. We were able to talk through and resolve the matter in seconds. It was awesome!"
We also observed instances where those meeting through tonari would actively pull other staff into conversations. The participants could then reach a consensus and make a decision all in a matter of minutes. According to Shinji Ineda, a Tokyo-based facilitator and Frontier Consulting board member, "There are very few decisions made by just two people. I typically need information and advice from multiple stakeholders in order to reach a decision and action it. With tonari, I was able to involve multiple people in discussions taking place in both Tokyo and Osaka offices. This feels very efficient and effective."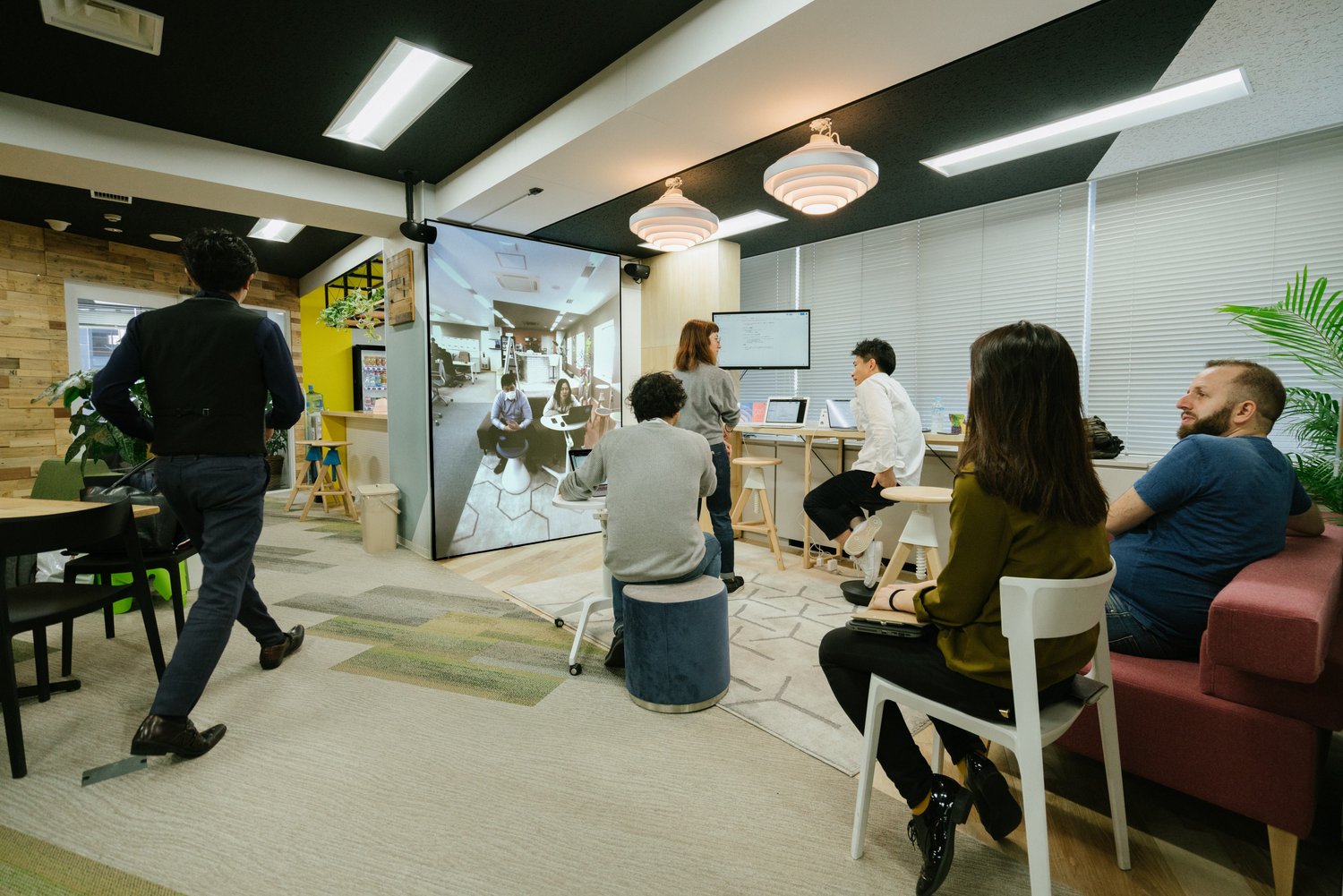 What does it take for tonari to change an organization?
While tonari as a technology is designed to strengthen the working relationships between people in remote offices, a broader cultural change in a company ultimately comes from those who work there. As one person noted, "If an organization wants to strengthen connections between staff, it must foster a sense of unity. It can't just rely on the technology. The company's culture and mindset must change as well."
Two months into the pilot program, we find that Frontier Consulting employees with existing lateral relationships regularly and enthusiastically use tonari; meanwhile, those with limited personal networks and less reason to interact remain shy or unsure. This is understandable — two strangers on a bus are unlikely to talk to each other, even if they are sitting next to each other.
We can look to a similar experiment conducted by Robert E Kraut and Bell Communication Labs in 1990, where researchers installed a system called VideoWindow between two common areas on different floors of the same building. They left it on for 24 hours a day, seven days a week, for a period of three months, and tried to gauge whether it encouraged informal interaction.
"Although the VideoWindow system can support informal interaction at a distance, its use requires careful attention to social detail. Imagine connecting the cafeterias of two research organizations whose members already know each other and who have reason to work together. In other circumstances, strangers [may find that] the probability of encountering a suitable partner and striking up a conversation are low.
So, even though the VideoWindow system may extend the boundaries of one's physical space and increase the absolute number of people with whom one can interact, it does not necessarily extend the effective work space or the social environment in which people work and in which informal conversations take place."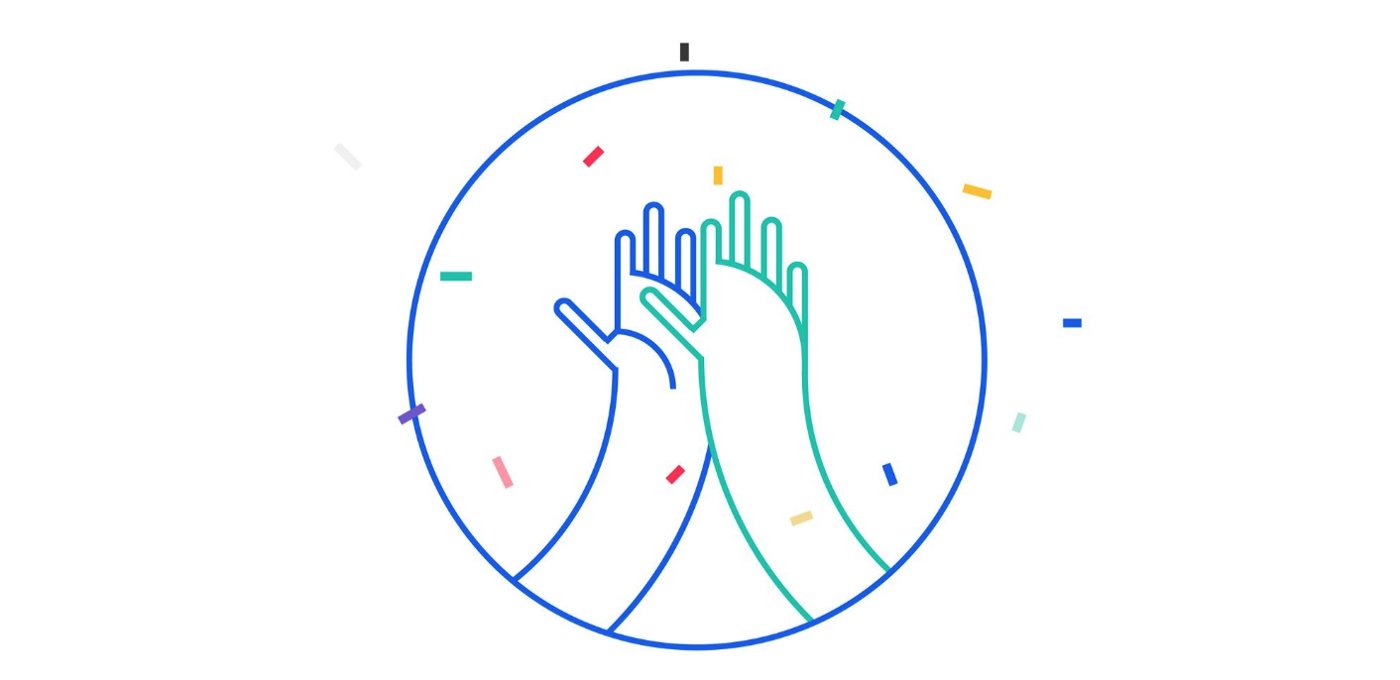 To spur tonari usage and break down organizational silos, we enlisted the help of our facilitators: Yano-san and Nishimura-san in Osaka, Ineda-san and Gumizawa-san in Tokyo. These special volunteers play a crucial role in making people comfortable with and accelerating adoption of tonari by creating opportunities for more of them to use it. Our facilitators organize and host regular events such as weekly happy hours and themed lunches, and utilize their tenure, status, talent, and personal connections to increase attendance and push for higher usage.
We're extremely grateful for their efforts! We hope that their energy radiates outward, and encourages more members of the organization to step up and share their knowledge and networks with those who are less experienced, lack internal connections, or are more socially anxious.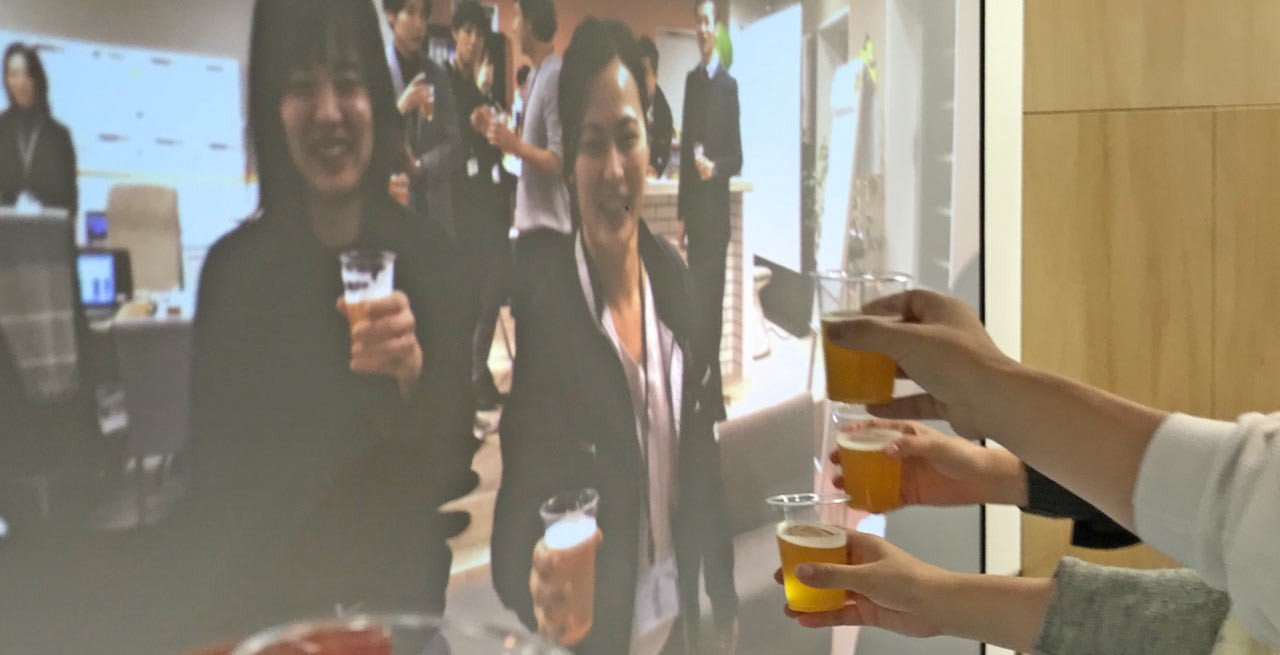 Conclusions
In the first two months of the pilot program, qualitative feedback has indicated that tonari can help remotely located teams achieve a stronger sense of connection, better information exchange, and faster decision making, through richer, serendipitous communication.
In the future, we would like to employ research methods that help to quantitatively validate some of the initial conclusions from the qualitative data we've gathered in this pilot.
For example, are distant teammates interacting with each other more after installing tonari? Are more people across locations getting to know each other, thanks to the efforts made by our facilitators? A more methodical way of documenting the interaction count, frequency, and patterns could help us connect qualitative "feelings of closeness" with quantitative data.
Ineda-san noted that the real-world test would be for an organization to modify its structure with a system like tonari in mind. For instance, if an organization could establish a sales office in Tokyo and a design team in Fukuoka or Sapporo — regions with lower office rent — without compromising the quality of communication and teamwork, it would benefit from significant cost savings.
With more tonari installations, Frontier Consulting may be able to make such structural changes in the not-so-distant future, in a scope beyond a six-month pilot program. We would like to continue to observe how Frontier Consulting adapts and changes with tonari over the remaining four months of the pilot program.
Special thanks
We are very fortunate to be able to work with an amazing team of dedicated facilitators. Special thanks to Shinji Ineda, Naoko Yano, Kazuya Nishimura, and Ayu Gumizawa for always making time for us, assisting with research, and providing helpful feedback. We would also like to thank Noriko Yamamoto, Satoshi Ono, and Naoki Hirose for their detailed survey responses and for allowing us to interview them. A big thank you to all Frontier Consulting staff in Osaka and Tokyo, for welcoming tonari into your spaces, participating in our surveys and events, and kindly and patiently waiting for improvements and features we're making with your feedback.
Finally, we would like to thank Aya Osuga Andrews, Joy Ding, Satoru Teshima, and Shizuka Nagahama, our incredible editors and translators who rallied from around the world to make this report possible in English and Japanese.

Join our newsletter for updates about products, research, events, and pilot programs. Reach out at hey@tonari.no.