Alisaun was explicit: "I had a second child because of tonari!"
Okay, maybe Alisaun had other reasons too, but having tonari connected between the Moshimo space near her home in beachside Hayama and our Straylight space in Tokyo gave her confidence she'd be able to keep contributing to the company, even while taking care of two small children.
As Alisaun eased back into work from maternity leave, many of us in Tokyo also had the pleasure of seeing her newborn grow up through tonari. Here's Aki at 11-months, showing off all the cool new things he can do.
As a startup, it's important that we're always testing and using our products to their fullest, and Alisaun's story is one example of how the tonari portal has ended up changing the way we work and the way we live. This is why we built tonari in the first place: to create new possibilities for collaboration across distances, to provide more flexibility in the way we work, and to expand opportunities for genuine human connection.
Two years ago we wrote a blog post about how we used early versions of tonari, and now coming out of the pandemic — at a time when everyone is talking about the future of "hybrid" work — we thought it'd be good to look again at how we use tonari and how it's changed our daily lives.
Collaboration across distances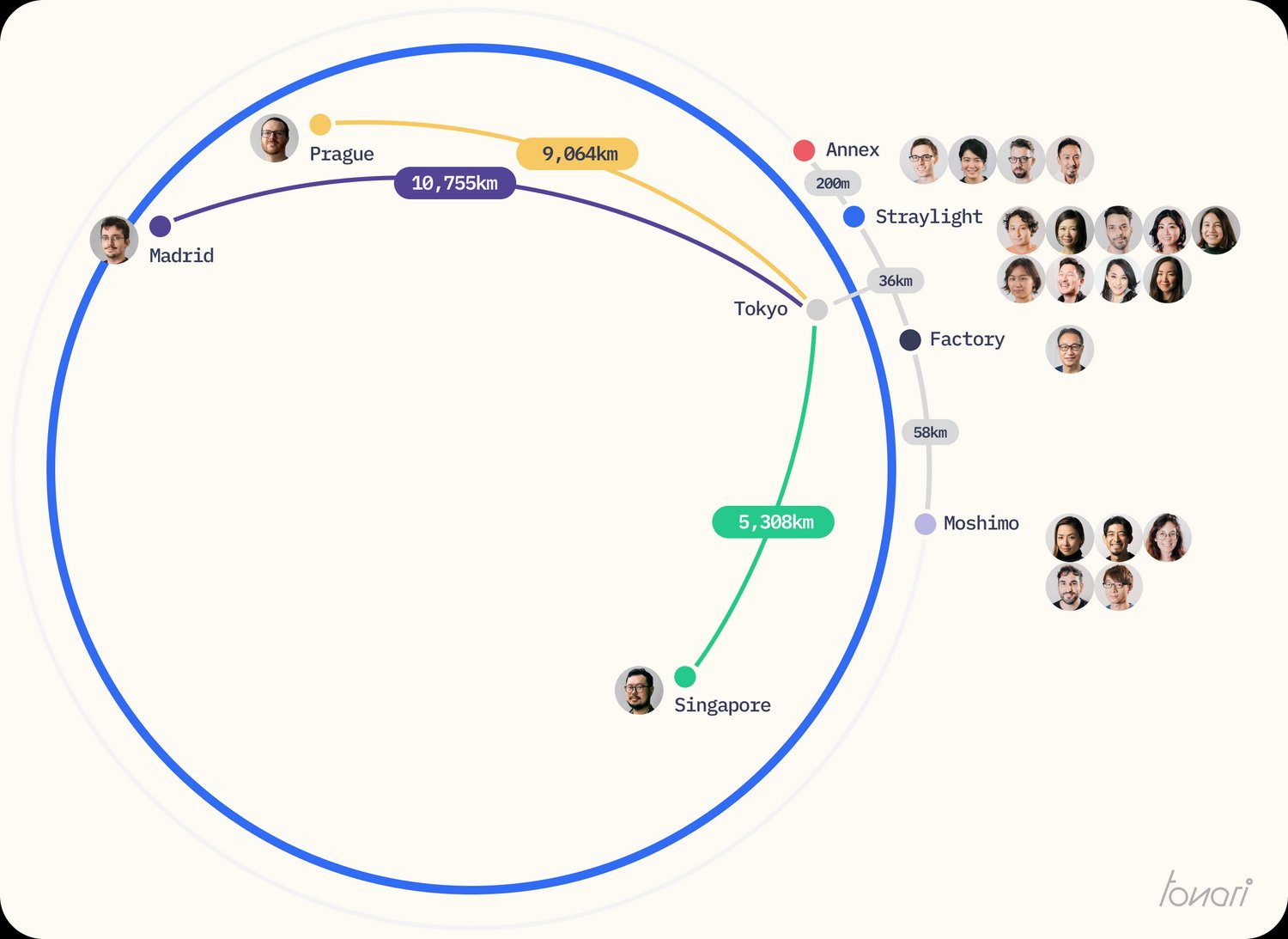 Two years ago we were 11 people, and now we've grown to a team of 22 including part-time collaborators. We work across seven locations, four of which are connected via tonari: our Tokyo headquarters at Straylight, the Annex down the street for R&D, a studio in Prague, and the Moshimo space in Hayama. The tonari product is central to how we communicate across these distant spaces, allowing teams to feel always connected despite being physically in different locations.
We built Moshimo in Hayama during the pandemic in Summer 2021, when we realized Alisaun, Ryo, and Taj would stay in Hayama longer-term. We wanted to establish a workplace and environment that could also grow with and support our families and local community. In the daytime, Moshimo is a workspace for tonari and our local friends. And during early mornings, evenings, and weekends, it's a pop-up space and cafe for a variety of other activities like yoga classes, art exhibitions, and workshops for kids in the neighborhood.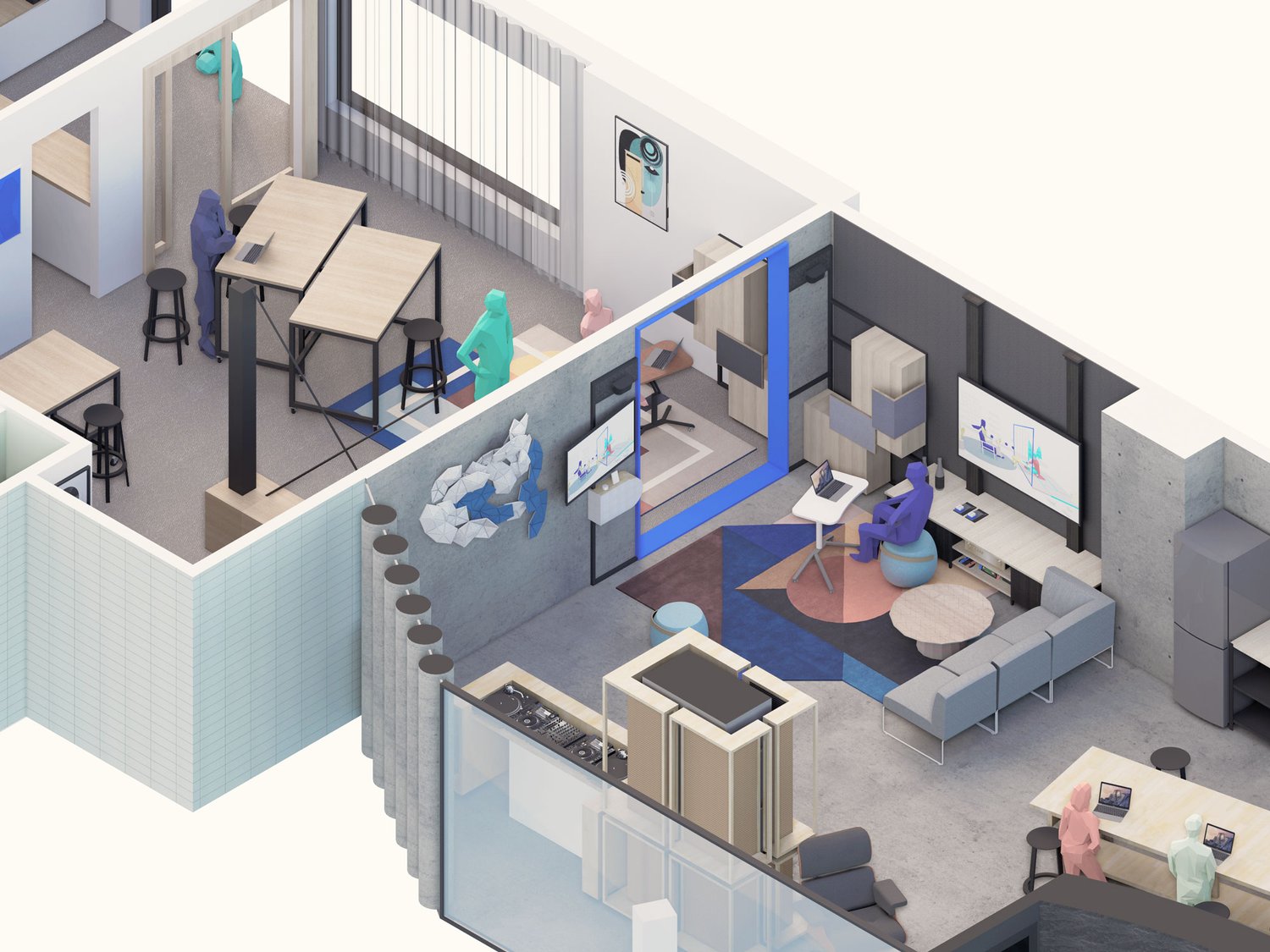 tonari also enabled us to open up a Prague Studio in the Czech Republic. Matěj, our engineer there, had planned to move to Japan, but life happened. So we created an entire space around him with the hope of further expansion in the future. Matěj now commutes to the studio, and every afternoon in Japan, we see and hear him from the Annex in Tokyo. His presence via tonari has made his interactions with the team much more frequent and casual, allowing us to share moments together like he's really there.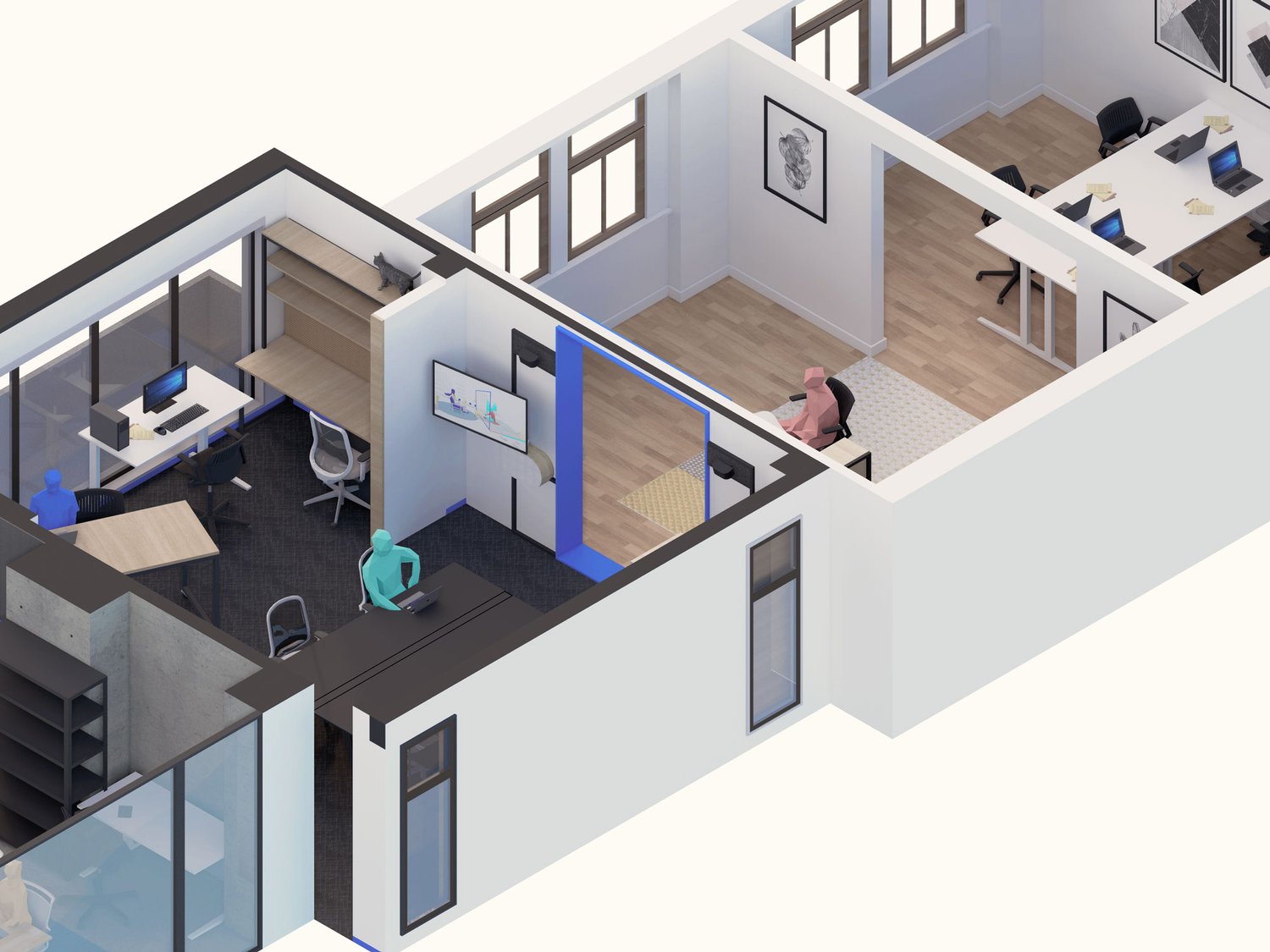 Similarly our engineer Pablo sits in Madrid and connects through a small experimental version of tonari at the Annex. Megu, who runs customer success, once told me, "Visiting the Annex and talking to Matěj and Pablo like we were all in the same room just blew my mind."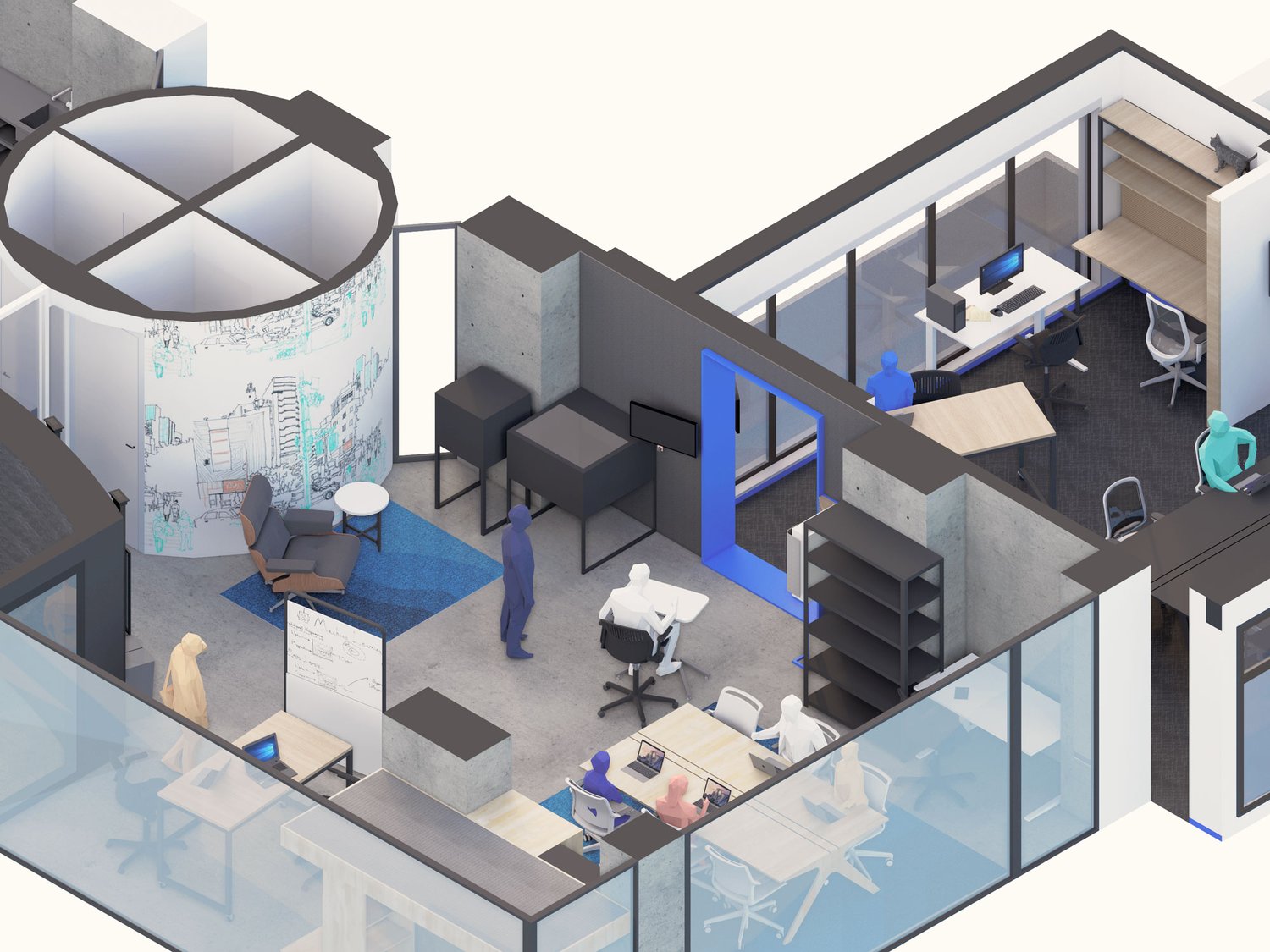 Shiro, who leads HR and admin (among other things), reminded me, "There's a very common plot in Japanese TV dramas where characters sadly leave their Tokyo life because they 'have to return to their hometowns.' But now with tonari, Pablo and Matěj could even go back to their home countries and the team operates almost like nothing changed."
Flexible styles of work and
life
With our remote teams feeling so connected, tonari has opened up many possibilities for where we can work and live.
Though the engineering team is split across the globe, they are still able to spend time together most Japan evenings and Europe mornings to casually check in, collaborate on projects, and discuss new challenges.
Ryo, our co-founder and CTO, also has the flexibility to work from Hayama on days when he wants to be home earlier or join his kids at school events. With tonari, it doesn't make a lot of difference which office he's in on any particular day.
Alisaun and Aoi, who lead sales from Hayama, often use tonari to have quick catch ups and discussions with others who work in marketing, PR, and customer success. Here the team is preparing the schedule for a client launch event in Osaka and deciding how to split up the work.
Aoi ended up joining tonari because she saw how the technology allowed people to work for high-tech startups without leaving Hayama — a city with relatively few local jobs for mothers outside of retirement homes, daycares, and cafés. Ayako, our admin who coincidentally grew up in Hayama but now lives in Tokyo, thinks that tonari and similar tools have the potential to transform smaller Japanese cities: "Even with hybrid work, few companies allow employees to work from their homes. Many of my highly educated and experienced 'mom' friends in cities like Hayama or Totsuka have few opportunities for good jobs, making it difficult for them to work."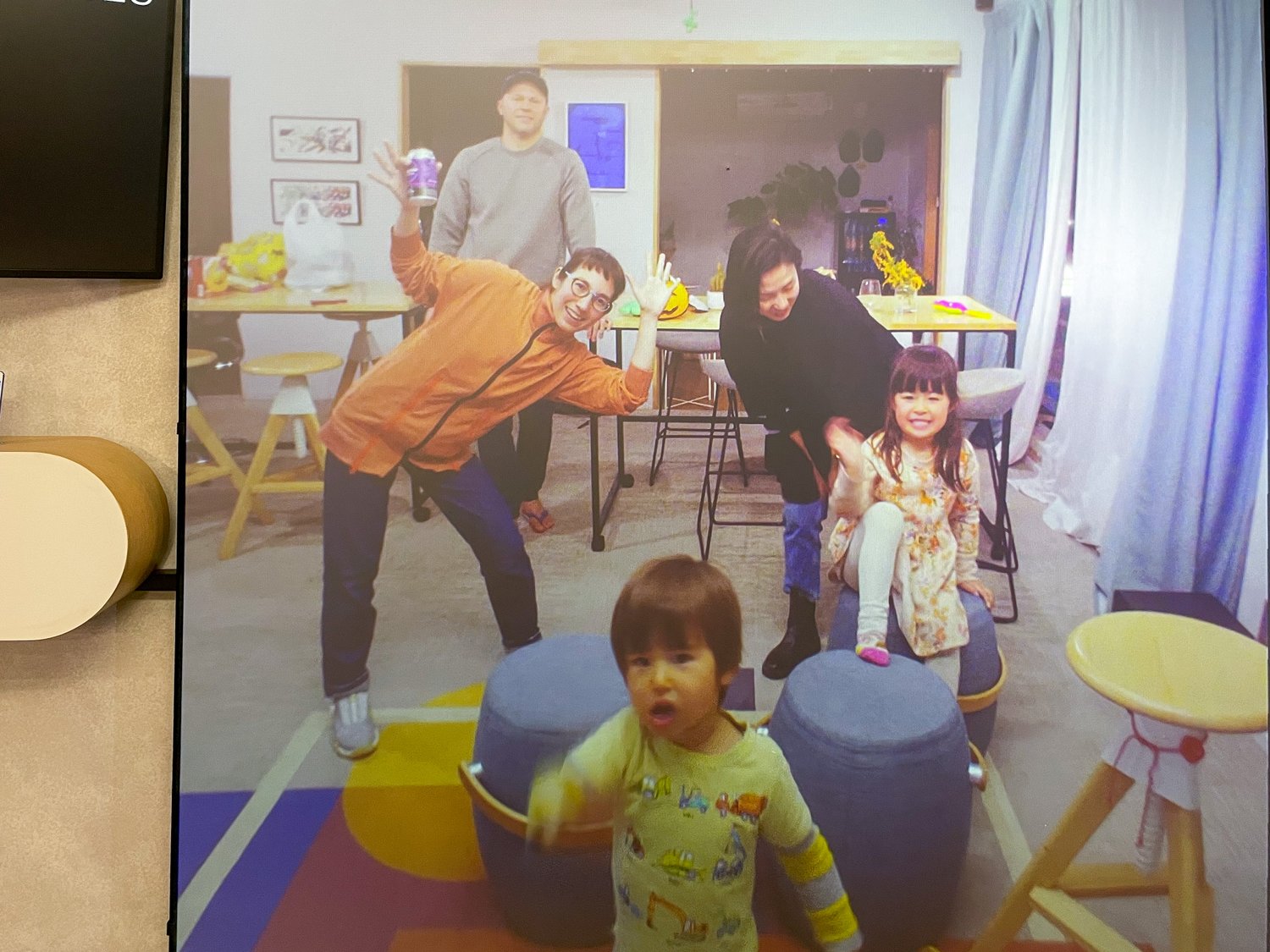 In Japan, long commute times result in most working mothers only spending two hours with their children, but tonari helped solve this problem. Aoi says, "My kids are growing so fast every day, and tonari provides a way for me to make a lot of impact at work without missing out on my children's lives."
Experiencing genuine human connection
Unlike standard video chat, tonari is full-sized and always-on, which allows more genuine, natural experiences. By opening a life-sized portal into another space, teams on both sides can feel like they're in the same space. (The always-on nature of tonari is such a core part of the experience that when Alisaun's older son came to the Hayama space on the weekend and tonari was sleeping, he asked, "Hey, where is everyone!?")
One of the best things about tonari remains the serendipitous interactions. We are always chatting and laughing with each other across the screen. We easily celebrate small wins and birthdays together, like this impromptu cake party for Megu.
Matěj says, "The types of communication I have with my team changed after commuting to the Prague Studio every day. Brian and I sometimes talk about movies we watched or I'll ask how Ikumi (Brian's partner) is doing."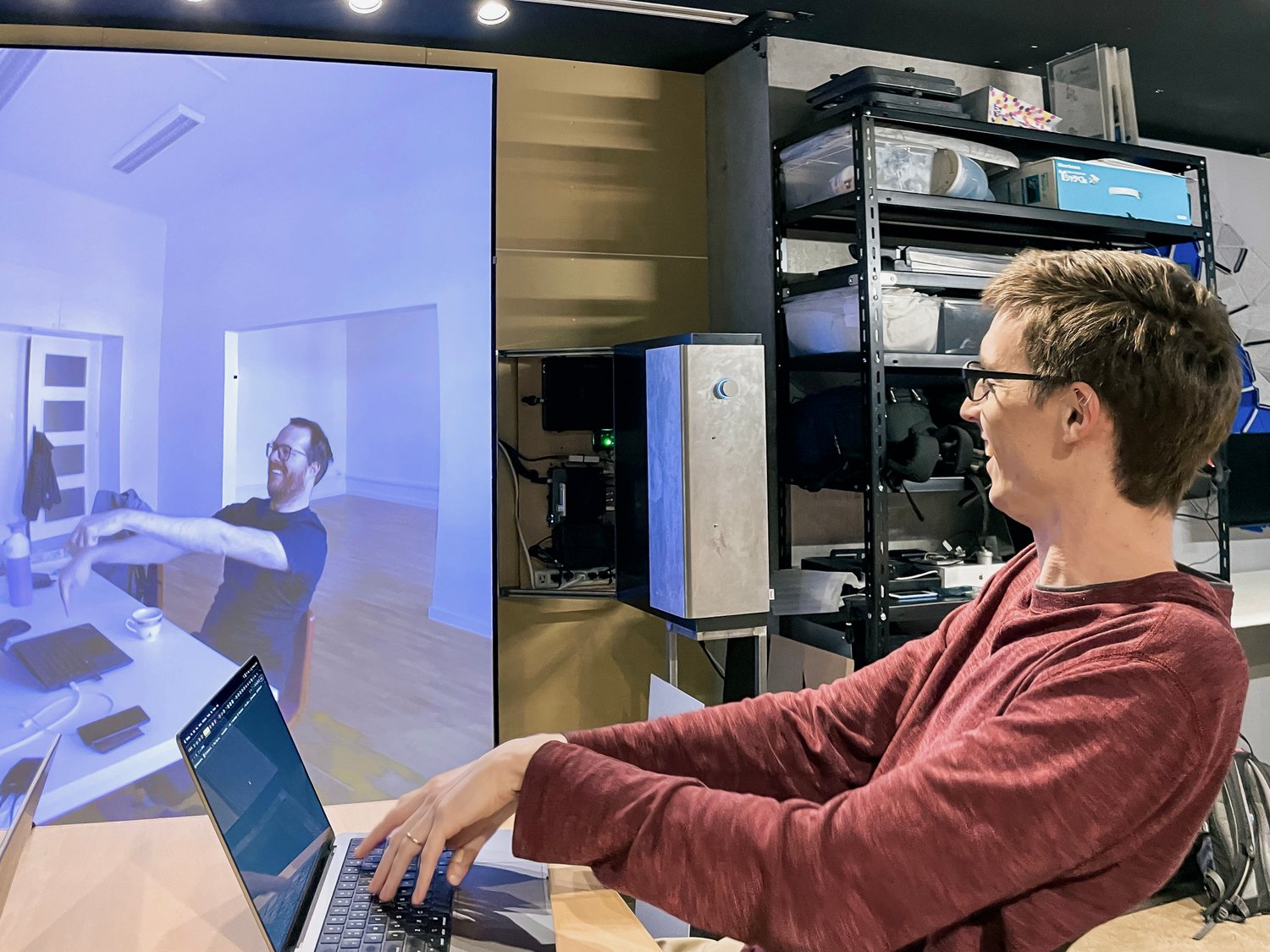 Pablo agrees, "It's hard to overstate how important latency, frame rate, or audio quality are in terms of feeling in close contact with the team, compared to something with less fidelity and more lag like a Zoom call."
Normally people in remote offices have to set specific times for one-on-one catch-ups, but our designer Adam likes the fact that he can talk to Matěj through tonari in a more casual way. This type of engagement has improved their relationship dynamic. When people notice small things — like when Matej and Taj wore matching socks, or when Pablo could notice that Brian modified his mechanical keyboard from its new clacking sounds — those friendly conversations often create a window to share other life updates and strengthen our relationships.
We've also used tonari to turn our Straylight and Moshimo offices into community spaces that connect Tokyo and Hayama. English books are hard to find in Hayama, so we held a book swap between the offices in an extremely cozy layout with bean bags. I personally loved having the opportunity to talk about my favorite books and finding people to exchange them with.
What's next?
tonari as a product has strongly influenced the ways we collaborate and has allowed us to be more flexible in choosing the places we live. We benefit from the deeper human connections we have with tonari, even as our team spreads out to different continents.
Of course, we've only been able to make such progress after much trial and error, and there is still a lot to do. R&D at the Annex is currently focused on building out new form factors to make tonari work within more kinds of spaces. At the moment, we can't even get a full-sized tonari to Pablo due to the space required.
We're also working to improve audio quality, which can be difficult to maintain at high fidelity in open spaces. There are many hardware and software approaches to consider, such as beam-forming mic arrays and AI-augmented noise reduction, and we're actively developing a few ideas to improve current and future products.
But overall we're pleased that tonari delivers natural, collaborative, and flexible working styles, and more importantly, it's a technology that helps protect and promote our values. We hope that other companies using tonari are getting these same benefits.
As always, if you're interested in using tonari, get in touch with us here. And if you're interested in working for tonari or collaborating with us, here's how to get in touch with our team.

If you enjoyed this and want to follow our progress, please consider signing up for our monthly newsletter. And if you have any questions, ideas, or words of encouragement, please don't hesitate to reach out at hey@tonari.no. 👋