For nearly 18 months Frontier Consulting (FC) has been using tonari as a life-sized virtual doorway to connect and unify their Tokyo and Osaka offices.

In January 2020, we installed the first pilot version of tonari, and published our initial findings a few months later. Since then, as travel became impossible between the two offices due to COVID-19, we worked closely with the FC team to stress-test tonari, conducting research, surveys and field studies, and making several technical upgrades.
Now, more than a year later, we're excited to share new research and insights about how FC employees are using tonari to communicate more effectively, build better relationships, and create a more unified company and culture.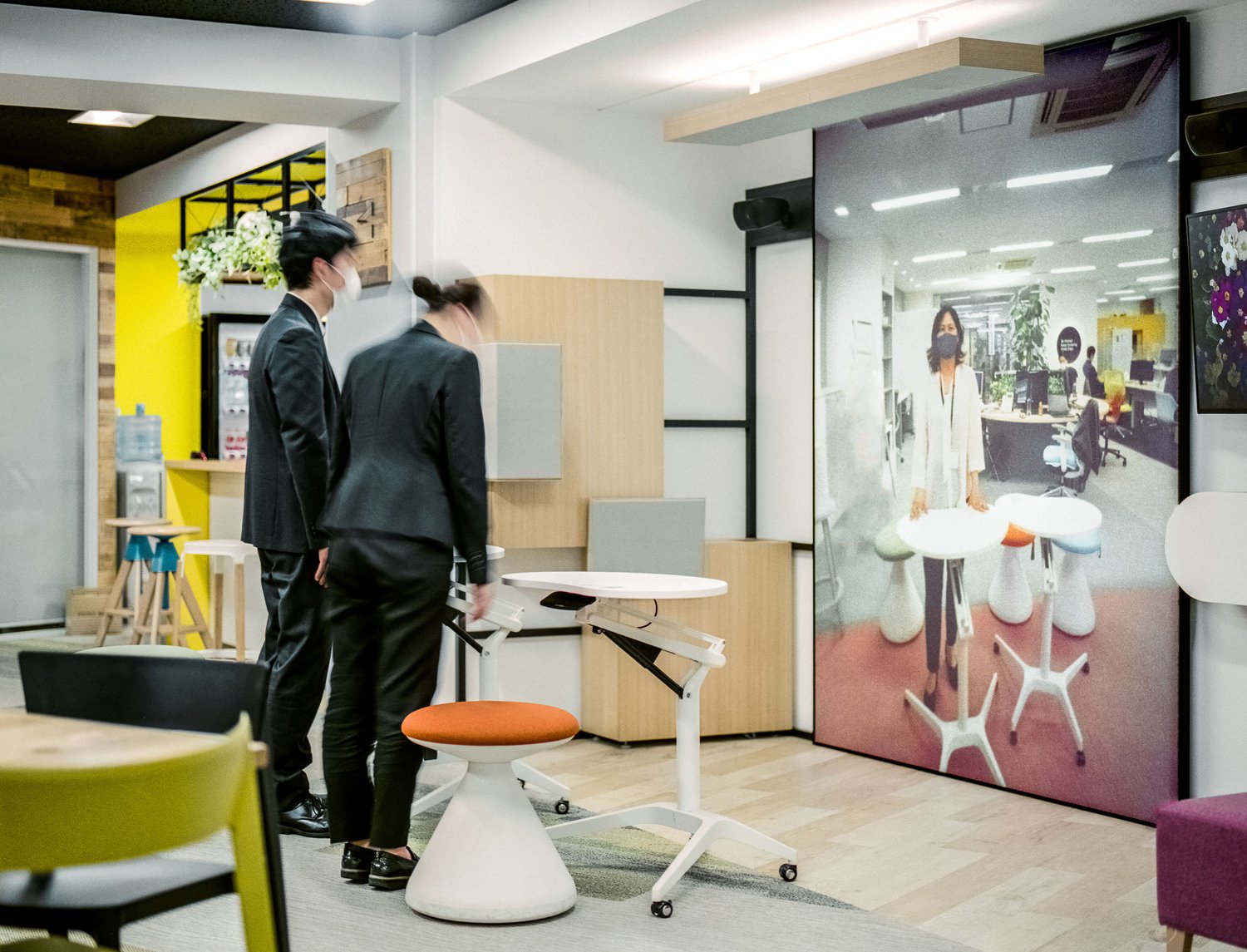 In our previous research, we found that tonari was particularly valuable for people who already had existing relationships between Tokyo and Osaka, especially power users who were regularly commuting between offices to meet with team members. That research has been reinforced during the pandemic, as the two offices regularly used tonari to improve the ease of remote communication.
Now we're seeing that tonari is not only improving existing relationships, but is also helping people build new relationships across offices. This has been critical to strengthening the feeling of working as one team across two disparate locations, which was one of Frontier Consulting's main hopes for tonari.
Improving the ease of remote communication
Executives and many of FC's sales and design teams have members that work between Tokyo and Osaka, so when the pandemic prevented teams from traveling to work together, FC employees increased usage of tonari to improve the ease of communication.
From our research, the two main reasons that people preferred tonari to other mediums like phone calls or video chat were:
A life-sized screen makes it easier to read natural body language and nuance

The second share screen makes it more natural to share and review presentations and other materials
tonari helps convey the nuances of body language
In a survey conducted in March 2021, we found that life-sized is a top tonari value cited by 53.2% of respondents, enabling people to "convey nuance that is difficult to communicate."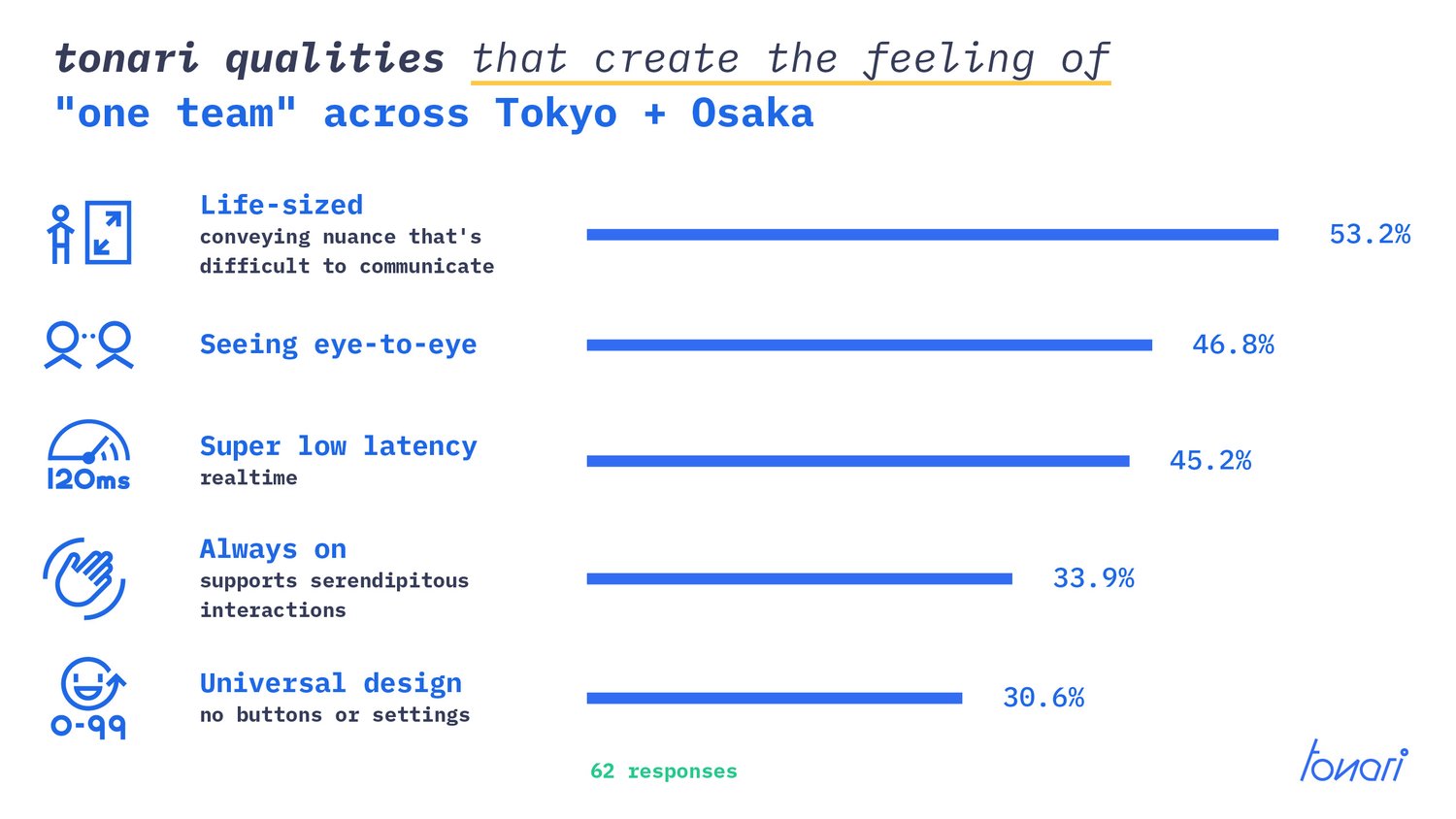 N.Y. in Osaka explains, "It takes time for me to express myself on the phone — the nuance never quite comes through in the way that I want it to. With tonari, I can use my hands and energy."
When people can express themselves as if they are meeting in-person, communication happens faster and more effectively. There's less need to be overly polite and indirect. There's more mutual understanding and context sharing, which leads to fewer misunderstandings and less time spent resolving them. Seeing people life-sized in their element — working, talking, meeting, and acting as they normally would in the office — makes it easier to connect and empathize with teammates in the other office.
Second screen creates smoother remote meetings
Seeing reactions through spoken word, tone of voice, facial expressions, and body language is critical when presenting or sharing an idea.
tonari's main screen is dedicated to seeing your counterpart, so it's possible to easily observe the energy and enthusiasm of the presenter, and subtle changes in facial expressions and body language of participants. A second smaller share screen is used to share digital materials like documents, design plans, and presentations
T.S. in Osaka explains, "Unlike video conferencing, the separation between tonari's main screen and share screen makes it easy to convey subtle nuances through gestures. You really don't feel like you're in a remote meeting across Osaka and Tokyo."
As an office design firm, FC requires a lot of visual context-sharing. A designer in Osaka notes, "There are definitely times when I felt 'Ah, that saved a lot of extra effort.'"
For example, when sharing color and material samples with their manager in Tokyo, the designer would take photos of each sample, share them over email or video conferencing, and try to explain the merits and demerits of each option. With tonari, they can quickly show their manager the samples, compare and talk through the options, and make design decisions faster.
Building new relationships
In addition to reducing the friction of existing remote communications, FC employees are using tonari for more casual and serendipitous interactions, as well as social gatherings. From quick hellos to team lunches, people are using tonari to get to know each other and build new stronger relationships across offices.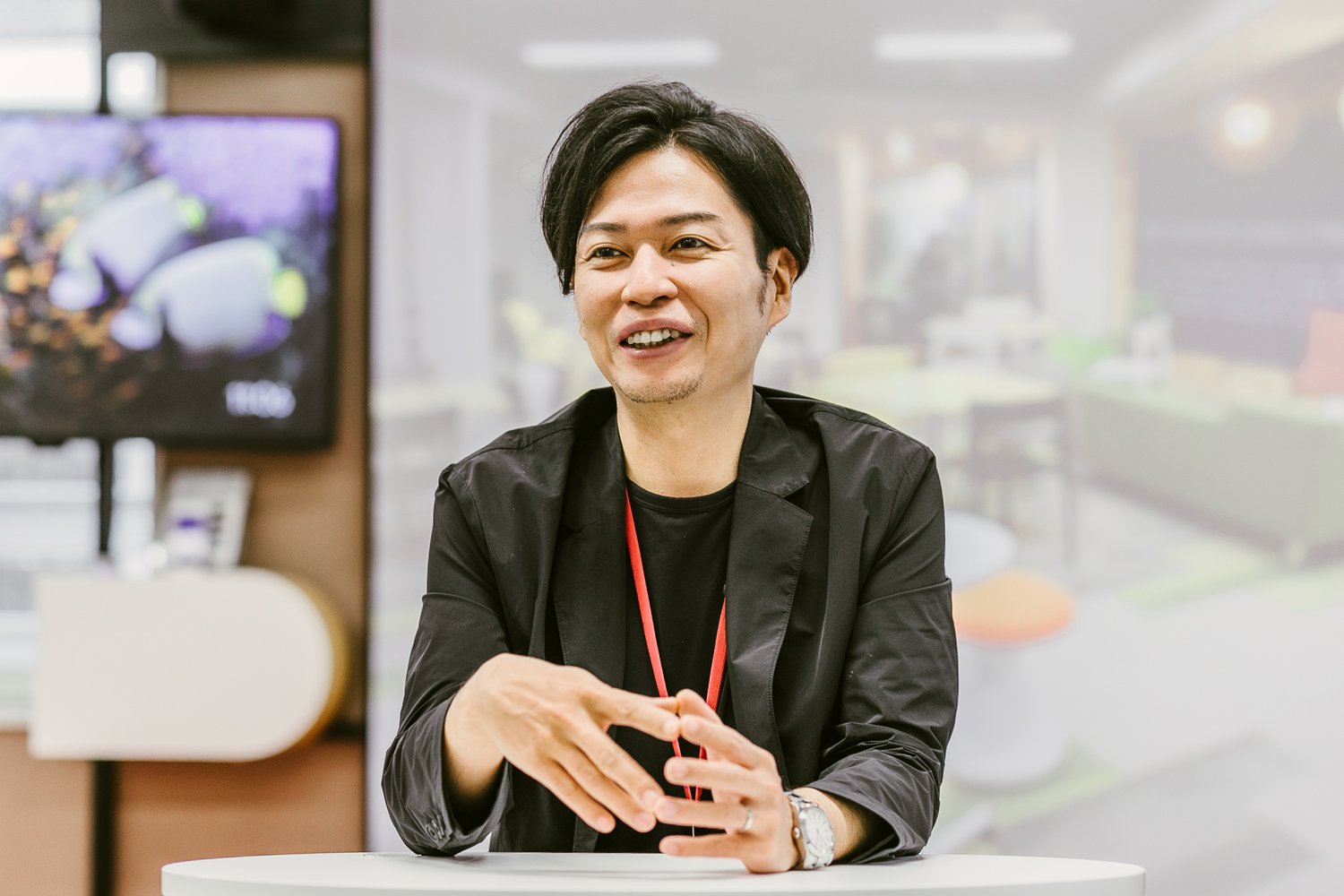 We had the opportunity to interview Naoki Hirose-san, the executive manager for FC's West Japan region. His experience overseeing the Osaka, Fukuoka, and Nagoya branches gave him unique insights about teams and offices with access to Tokyo HQ through tonari, and those without.
"When I think about one team or togetherness, I think about familiarity," Hirose-san explains. "With tonari, there is constant sound, movement, and a feeling of being in the same space in a very flat way. This sense of unity is not about formal meetings and seminars. It's about being connected and sharing a space with other people."
Bonding over casual and unplanned interactions
Because tonari is installed in high-traffic areas of both offices, where people can easily see each other from their desks and when walking to meeting areas, there are many opportunities for unplanned interactions and conversation.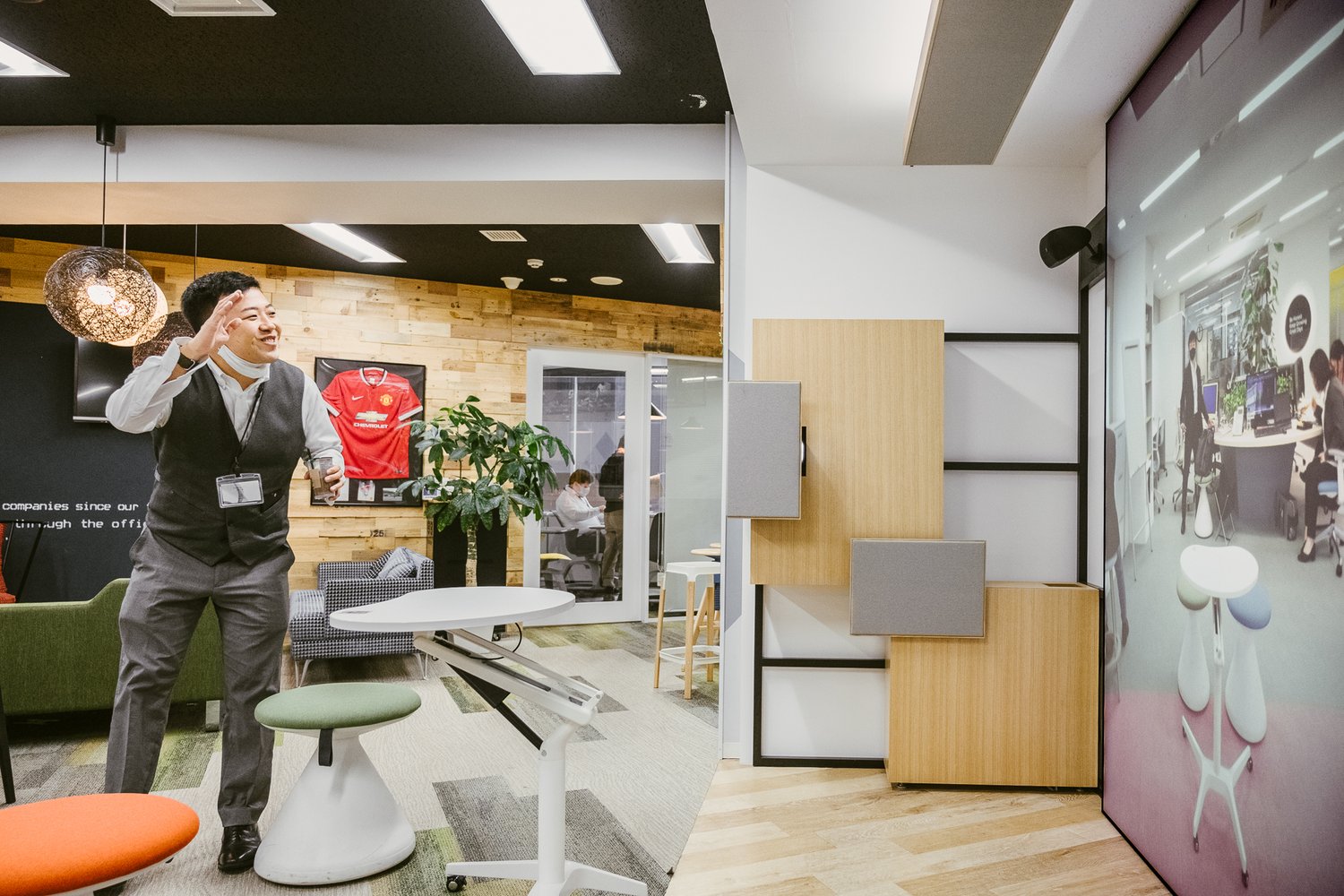 Tokyo employees would use tonari to greet people in the Osaka office with "Ittekimasu" before they head off to client meetings, and greet their remote co-workers with "Otsukare-sama" before they leave the office when working late.
A manager in Tokyo shares, "I call out to my team in Osaka and do a casual check-in before my meetings."
Employees also use tonari to share meals. "Eating lunch together is the most natural way you can get to know a person during office hours," according to one of the sales members in Tokyo.
Frequent shared experiences across the two offices blur the physical boundaries between them, and help distant team members feel like they're together and part of the same organization.
We're particularly drawn to this quote from an employee in Osaka overhearing laughter in Tokyo:
"Even if I'm not part of the conversation, when I hear laughter on the Tokyo side, I smile too."
Meeting and welcoming new staff
The biggest test for tonari this past year as a substitute for in-person interactions was in April, an especially busy time in Japan. It marks a new fiscal year, a new school year, and when new graduates join a company.
FC would typically welcome newly hired college graduates by sending them to Tokyo HQ, where they would hold a ceremonial event with senior managers, tour the office, meet different teams and departments, and receive training for their new roles. In both 2020 and 2021, travel was cancelled, and Frontier Consulting chose to do these orientations over tonari instead.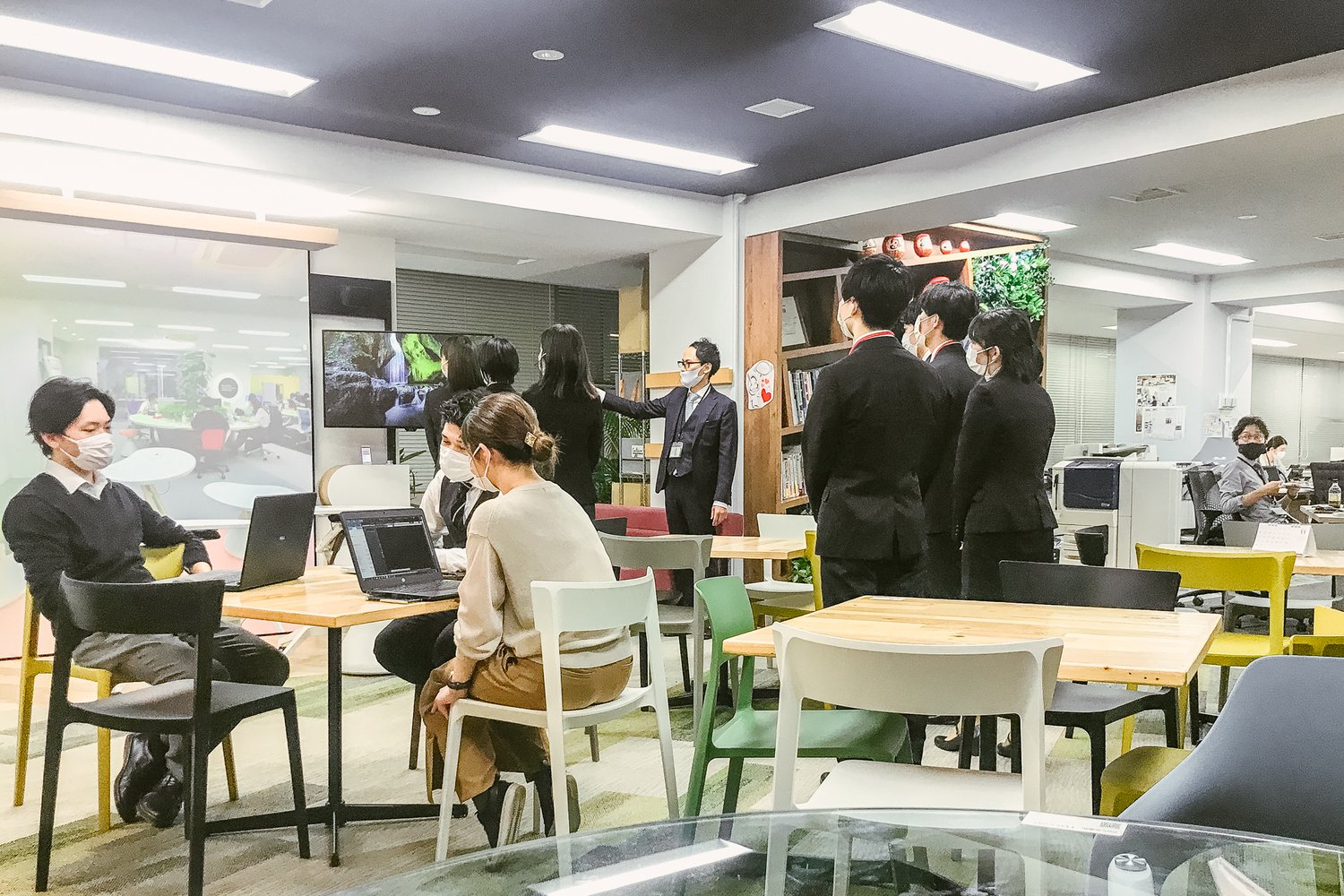 We found that when people couldn't travel, tonari still allowed people to build warmth and camaraderie with their new coworkers. For instance, A.G. in Tokyo recently met a newly hired staff member in Osaka through tonari, and expressed:
"I feel happy that I'm able to meet you in-person."
Having tonari connect Osaka and Tokyo also shares the infectious energy and excitement of welcoming new graduates. N.Y. in Osaka exclaims, "I like saying hi to all the new employees. We rarely have new graduates in Osaka so it's refreshing! I can feel the young energy."
J.I., who recently joined the Osaka office as a mid-career hire during the pandemic said, "I was introduced to a sales team member in Tokyo through tonari. This was someone who I'd been talking to on the phone and over email, so it was so nice to finally be able to place a face to the name. Now I greet them whenever I see them through tonari."
Through these interactions over tonari, many people expressed a feeling of having built a genuine connection with their remote peers. N.Y. in Osaka explains, "I look forward to the next all-company offsite now that I feel closer to my teammates in Tokyo. I think we'll feel closer and more at-ease with each other."
Cultivating a
one-team
culture
Through improved ease of communication and these kinds of serendipitous social interactions, tonari opens a doorway between distributed offices and organizational silos. And it can reduce information disparity and increase interactions between people and teams that are physically apart.
FC is headquartered in Tokyo, and their CEO, VP, and several board members are also based there. For staff in Tokyo, striking up a random conversation with an executive in the hallway or elevator is a regular occurrence, but this is much less common in branch offices.
In a survey that we conducted, we found that 94.1% of respondents in Osaka agreed that implementing tonari has helped create the feeling of one-team across the two offices.
With tonari, many staff in FC Osaka said that they appreciated being able to casually interact with senior managers and executives in Tokyo. According to an employee in Osaka, "I appreciate serendipitous greetings from executives in Tokyo. When they know my name, I feel acknowledged."
In November 2020 we interviewed Y.K., a sales person in Osaka. At the time, he expressed concerns about changing the orientation of tonari to show more of the open meeting areas in both locations. "Seeing Ineda-san (a senior executive) sitting in the background while I take a meeting would make me feel uncomfortable. I'd have to pick my words and come across as very professional," he said.
A few months later in March 2021, we found he had changed his mind: "It's really good to be able to see more of the Tokyo office. I can see how everyone is like and what they're usually up to. I can see who's around. It's very conducive to striking up informal conversations." He continues, "I feel fine with seeing Ineda-san in the background now. I have a lot of conversations with him." For Y.K., being able to see and speak to Ineda-san in Tokyo more regularly made him feel more comfortable as he got to know him better. He now feels he can be more candid and casual than before.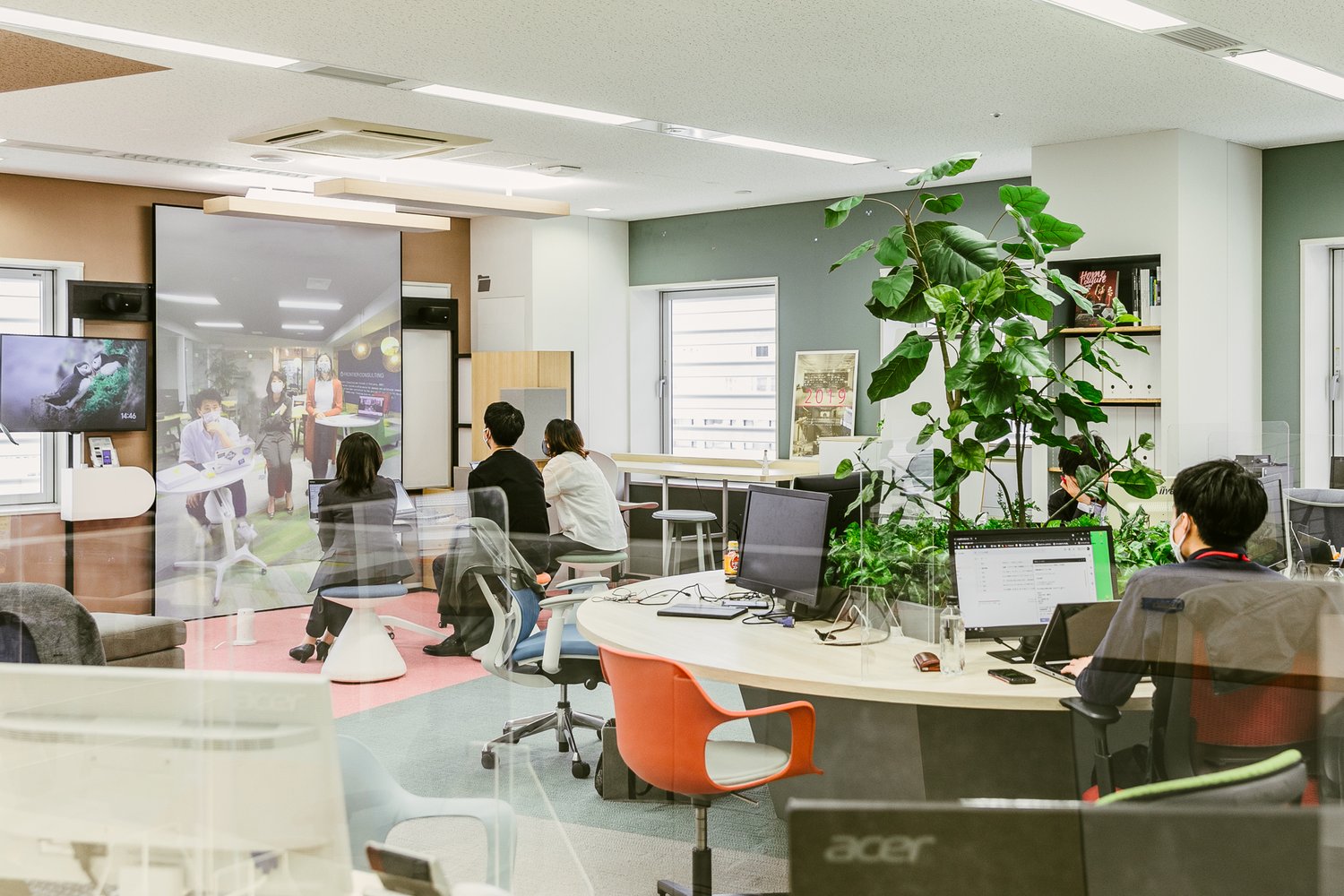 During the second state of emergency, FC Tokyo announced a temporary rule that all employees must leave the office by 7PM in order to avoid overcrowding public transit. At the time, Tokyo had the highest COVID case count among all the major Japanese cities, and executives of Tokyo-based companies created rules enforcing shorter business hours and lower office occupancy rates.
M.M., the head of sales in Osaka muses, "When managers in Tokyo HQ announced the new company COVID-19 rules, there was a strong feeling in Osaka that we should follow them." He laughs, "I imagine some of the other branches didn't follow this rule, thinking it didn't apply to them. For us in Osaka, being connected to Tokyo all the time, we felt like we were part of it, like we were in it together."
The tonari connected workplace
Quarantines and lockdowns have propelled millions of people to start working from home, accelerating a workplace experiment that many industries deemed too challenging to try before COVID-19. Now, as the world slowly begins to reopen, both the limitations and benefits of remote work have become clearer.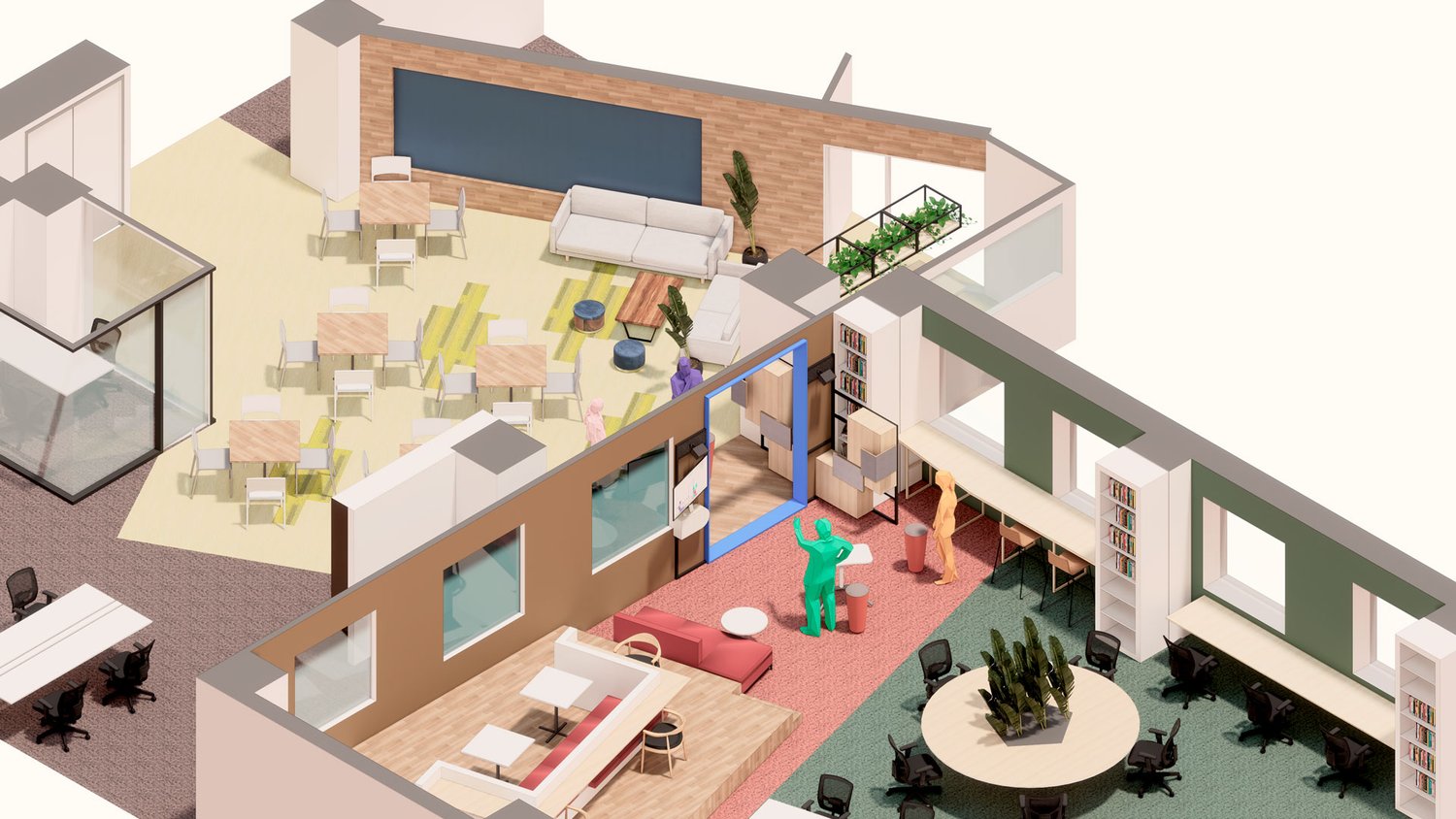 While more independent work from home is here to stay, the pandemic has also emphasized the importance of offices as a space for people to gather, collaborate, and feel like part of something bigger than themselves. Post-COVID, many employees at FC expressed a desire to spend more quality time with people outside of their direct teams. For FC, it's important for every staff member to feel like they're contributing to a larger whole, and feel responsibility and ownership to deliver their part. Empathy and team spirit stems from this understanding.
By using tonari, FC has been able to extend the context of their office beyond physical proximity, across multiple cities to create one unified gathering space. We hope that other organizations can gather inspiration from FC about how they can use tonari to enhance the role of the office as a nexus for collaboration and culture building.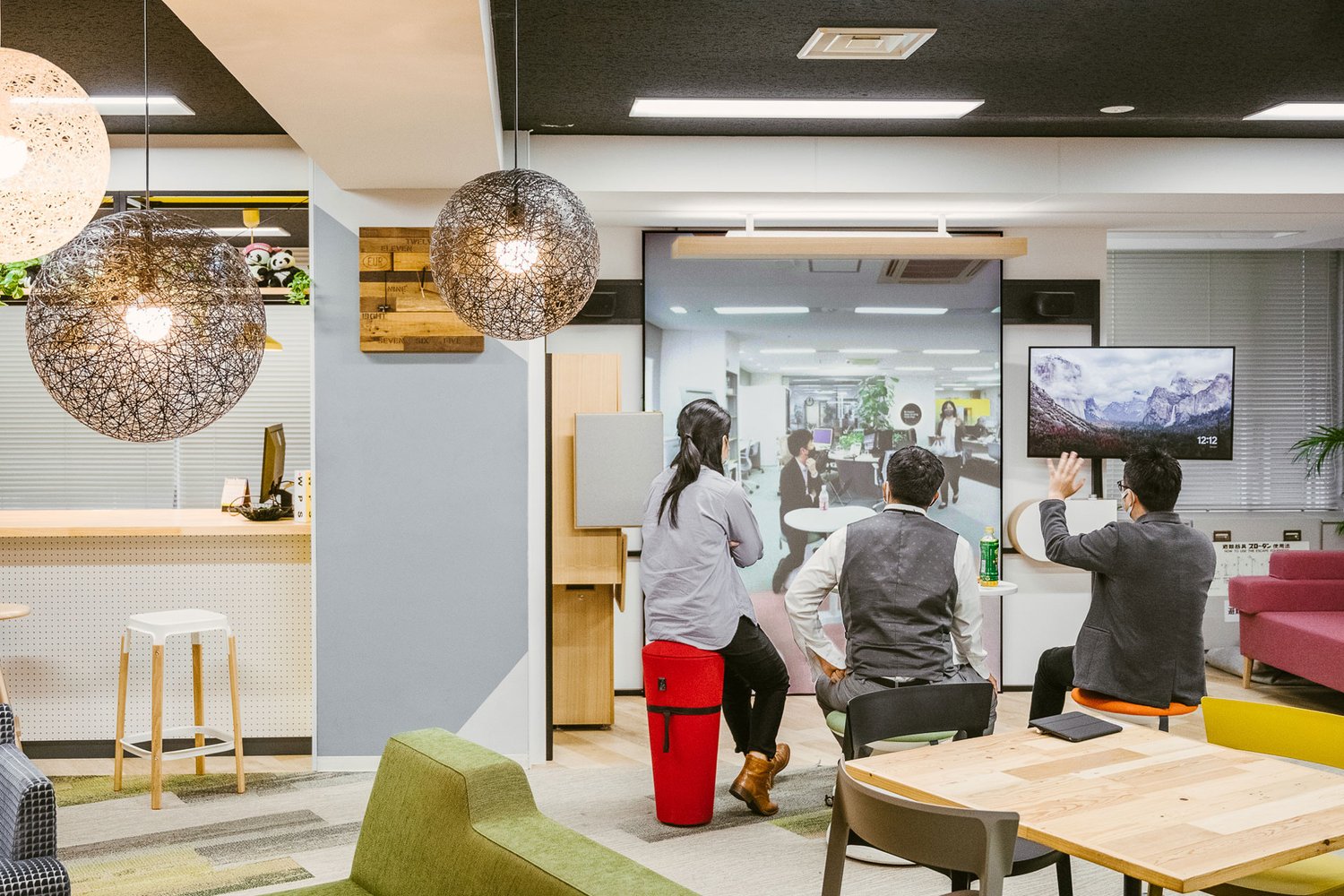 If you're interested in using tonari to build the ultimate connected workplace, please start the conversation here.

Thanks for reading! You can learn more about tonari and our team on our blog and website, and follow new developments via our monthly newsletter.